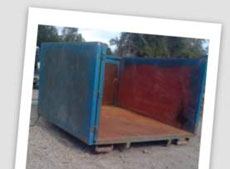 Big Metal Bins
You are here because you know that 6 cubic m and 1 tonne weight limits are not going to cut it!
We do have a heavy duty range of bins for builders, Real estate agents, landscapers, the home handy man for the "pretty enormous" waste issue all with a generous 4 tonne of weight allowance.
If you have a huge volume of any kind of waste or simply hard fill (concrete, bricks soil gravel) then give us a ring and we will give you a competitive quote. Sizes from 4 m to 18cubic m.