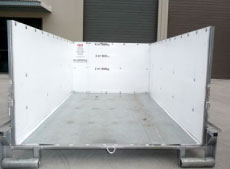 trainin operaziini binarie Handy tips for Loading up a skip bin.
Our skipbins come on a small truck and often we can get the bin under the carport or in the front yard easily.  Getting the skip bin close to the rubbish makes loading the bin much easier! 
The back door comes off so you can pack the bin easily.  Pictured is a 4 cubic m bin - door off.  Footprint of the bin is 2.5m x 1.7m x 1m high.  
Lie flat any table tops or timber on the floor of the skipbin. 
Wheel or walk  in the  awkward bulky items, white goods and brown goods. (dish washer, fridge, washing machines) and lounges. 
Make your rubbish as small as possible.  Break down furniture with a big hammer  so it "flat packs". Crush cardboard boxes.  The less airspace you have the better it is!  
Got paint?  Only put dry paint in the skip bin.  Here is a blog with handy hints on what to do with paint.  
NEVER ever put in asbestos or hazardous waste in the bin. Huge fines apply and will be directed straight to you! 
Not all rubbish is rubbish. Sometimes its someone else's treasure. Pop your good stuff next to the bin with a FREE sign. Maybe someone will take it away for you before you pop it in the bin. 
Not sure how much rubbish you have? Try our bin service where you only pay for the volume you use. Ring us today and ask!  Ph 1300548 324